A Much Needed Boost
Xquisite Installations, Inc is your premier source for bathroom remodeling in Palm Beach and Broward county. Whether you are looking for a luxurious, spa like retreat or remodeling on a budget, our team of professional remodel experts are here to help each step of the way.
Bathroom remodeling can be a fun and creative project. Some reasons to renovate your bathroom are increasing your house value, repairing damage, updating functionality or simply making a much more beautiful bathroom. Deciding on which fixtures you should replace is also helpful in determining the end result.
Storage Space
Bathroom Vanity
A bathroom vanity (a combination of cabinet, mirror and sink) is probably the main point that we first recognize when entering a bathroom. Selecting a contemporary elegant bathroom vanity can bring a comfortable feel to your bathroom remodeling project. They are useful for organization and storage, which usually come in one or two-sink models. Deciding on the size of your vanity depends on the number of people planning to use it, the amount of items that need storage and the dimensions of your bathroom.
Bathroom Cabinets
Another storage probability for a bathroom remodeling project is renovating or updating your bathroom cabinets. To have a lot of space available to store away your cleaning products, toiletries and linens this is usually a must. Cabinets for bathrooms come in many styles and configurations. This makes it easy for them to fit into potentially tricky or small spaces. Whether they are free standing or wall mounted, you will be able to find bathroom cabinets to store all of your bathroom related items.
There are many other things that you can add and consider for your bathroom remodeling project. Making your bathroom use more comfortable and helping you realize the best possible design for your bathroom remodeling is key. We can help you to renovate your bathroom into an impressive, useful and spa like retreat!
Which Bathroom Updates Do we Offer?
Flooring - Install new tile, wood, or vinyl flooring after removing the old floor and subfloor if necessary.
Tub/Shower Installation - Including Jacuzzi and deep-soaking tubs; or a new shower stall, maybe with a sit-down ledge and tile insets for in-shower storage of soap and shampoo.
Vanities - Customize your new/renovated vanity. We can beat the more limited selection you find in stores, and you won't have those long waits for product delivery. Choose from natural stone, marble, quartz, granite and more for your countertop and back-splash.
Cabinets - Ask about wood cabinetry, mirrors and framing, under-mount sinks, and decorative trim-work.
Toilets - We can remove your old commode and replace it with a newer, more upscale model. We know how to minimize the chances of leaks and back-ups so your sub-flooring will not be damaged by water.
Sinks/Faucets - We replace and/or upgrade old faucets, shower heads, sinks and drains. We can even put in high-efficiency faucets and shower heads that reduce water flow rate to save you as much as 30% on your water bill.
Ventilation - Improve ventilation in your bathroom by installing high-efficiency fans in optimal locations. Keep your bathroom temperature-controlled by adding extra insulation and more energy efficient windows and doors.
Fixtures - Add convenience and style by putting in storage fixtures like near-shower towel bars, heated towel racks, sturdy tissue roll holders, vanity area shelving and more.
These little details make a big difference in the functionality of your bathroom and buying quality means not having to replace them for a long time. Contact Xquisite Installations today for all of your bathroom renovation and remodeling needs!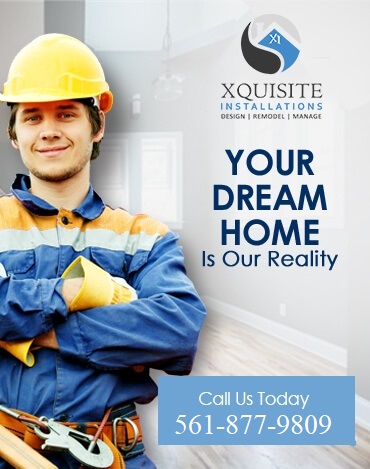 Our Commitment to Excellence
Xquisite Installations, Inc is fully equipped to handle all of your bathroom renovation and remodeling needs in a timely and customized manner. Our dedication to superior customer service and a high work ethic have earned us the respect of our clients and of others in the remodeling industry.
Frequently Asked Questions
We were so pleased with the quality of work, communication and professionalism from Xquisite Installations. They completely turned our outdated kitchen, living room and bathrooms into updated beautiful spaces!!! Outstanding work and amazing team!
Definitely recommend!
-Krista F
I used Xquisite Installations  for the first time to renovate my kitchen. I came up with the idea of how I wanted it to look and they provided the materials. Alex was very nice and responsive to any problems that came up (and there were not many!). The workers were professional, fast and took great attention to details. The kitchen looks amazing, it got so many compliments from our guests!
-Brianna T
Discover how we can help turn your dreams into reality!
Creating a functional kitchen from the ground up isn't an easy task. Think about efficiency. Think about how you actually use the space. If people have all the room in the world—like when they're planning a kitchen in a new home—they think more is more. So they make the distance between the island and the…
If you are considering a home remodeling project, the most important decision you can make is selecting a professional home remodeler to do it. Your home is too valuable of an asset to entrust to anyone but a professional home remodeler. Perhaps your home needs a full-scale renovation to transform its outdated appearance into an…