Pavers To Beautify Your Home
Xquisite Installations, Inc helps you to bring unique, modern and innovative pavers and hardscape to help create a well-designed backyard, an elegant entryway, or just a more sophisticated driveway. Our goal is to provide the highest quality of products and services at the most reasonable cost.
When your patio or driveway of your home has to be remodeled or installed, you can trust us to get it done for you. Our team at Xquisite Installations has expert paver installers who have garnered years of experience in this field. You can choose to have a plain paver or create a custom design for your driveway or patio with the help of our design experts. Not only will they help you choose a design, they will also guide you through creating one that will work best with the rest of the surroundings.
The materials that we use are the best and will stand not just the test of time but will also handle all sorts of weather conditions. We are known for such exceptional work that you will be very proud to own such a beautiful piece of property. Our knowledgeable team can turn any of your chosen designs into reality. To ensure that the quality of the work never suffers our supervisors constantly keep an eye out while the work is being done. We have worked on several projects in the past and have always done exceptional work. We promise to continue doing the same.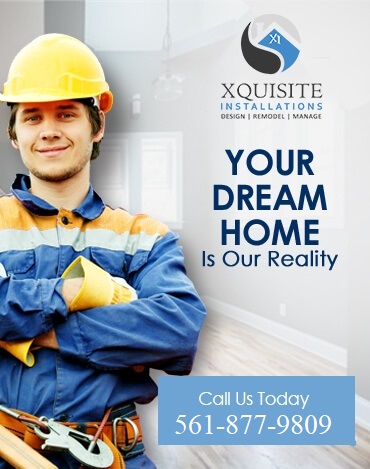 Our Commitment to Excellence
Xquisite Installations, Inc is fully equipped to handle all of your paving needs in a timely and customized manner. Our dedication to superior customer service and a high work ethic have earned us the respect of our clients and of others in the remodeling industry.
Frequently Asked Questions
We were so pleased with the quality of work, communication and professionalism from Xquisite Installations. They completely turned our outdated kitchen, living room and bathrooms into updated beautiful spaces!!! Outstanding work and amazing team!
Definitely recommend!
-Krista F
I used Xquisite Installations  for the first time to renovate my kitchen. I came up with the idea of how I wanted it to look and they provided the materials. Alex was very nice and responsive to any problems that came up (and there were not many!). The workers were professional, fast and took great attention to details. The kitchen looks amazing, it got so many compliments from our guests!
-Brianna T
Discover how we can help turn your dreams into reality!
Creating a functional kitchen from the ground up isn't an easy task. Think about efficiency. Think about how you actually use the space. If people have all the room in the world—like when they're planning a kitchen in a new home—they think more is more. So they make the distance between the island and the…
If you are considering a home remodeling project, the most important decision you can make is selecting a professional home remodeler to do it. Your home is too valuable of an asset to entrust to anyone but a professional home remodeler. Perhaps your home needs a full-scale renovation to transform its outdated appearance into an…