Exceptional Flooring for Every Room
At Xquisite Installations, we offer to set you up with the kind of floor that you have always dreamed of for your home. Our specialists as well as professional flooring contractors have sufficient experience in this regard and will get your work done in no time while ensuring that the project remains within budget.
We offer a wide range of flooring solutions for you to choose from and you can be assured that the finished result will render you speechless.
Our team consists of project managers who will help you choose the right kind of flooring that works well with the interiors and the rest of the home. You will remain updated at all the stages of the project and will remain an integral part during the process.
When it comes to  flooring, there is no other flooring company in our service area that can provide the superior level of services offered by Xquisite Installations. We provide high quality professional residential flooring, Laminate flooring, hardwood-flooring , wood flooring, vinyl flooring, bamboo flooring and more! We assure to use the best products available and when our work is complete you will not have to worry about your floor for years to come!
Contact Xquisite Installations, Inc. today to find the perfect flooring for your home. Your Xquisite Installations consultant will walk you through the ideal look for your chosen design and help you find a material that fits your lifestyle.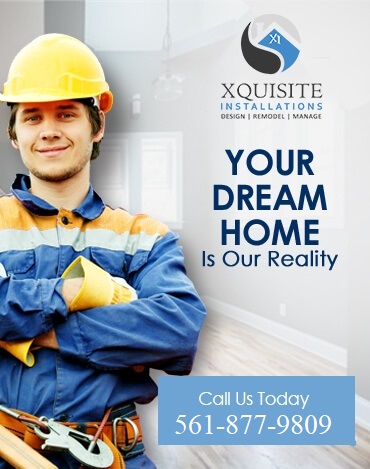 Our Commitment to Excellence
Xquisite Installations, Inc is fully equipped to handle all of your flooring needs in a timely and customized manner. Our dedication to superior customer service and a high work ethic have earned us the respect of our clients and of others in the remodeling industry.
Frequently Asked Questions
We were so pleased with the quality of work, communication and professionalism from Xquisite Installations. They completely turned our outdated kitchen, living room and bathrooms into updated beautiful spaces!!! Outstanding work and amazing team!
Definitely recommend!
-Krista F
I used Xquisite Installations  for the first time to renovate my kitchen. I came up with the idea of how I wanted it to look and they provided the materials. Alex was very nice and responsive to any problems that came up (and there were not many!). The workers were professional, fast and took great attention to details. The kitchen looks amazing, it got so many compliments from our guests!
-Brianna T
Discover how we can help turn your dreams into reality!
Creating a functional kitchen from the ground up isn't an easy task. Think about efficiency. Think about how you actually use the space. If people have all the room in the world—like when they're planning a kitchen in a new home—they think more is more. So they make the distance between the island and the…
If you are considering a home remodeling project, the most important decision you can make is selecting a professional home remodeler to do it. Your home is too valuable of an asset to entrust to anyone but a professional home remodeler. Perhaps your home needs a full-scale renovation to transform its outdated appearance into an…