Entertaining outdoors in style
Installing new decks and remodeling old ones are projects South Florida homeowners invest in every year, and for good reason.
First, decking adds extra "outdoor living space" with quick access to your home's interior. Perfect for outdoor barbecues and parties or just for relaxing and recouping after a hard day's work. Second, deck additions normally render an 80% ROI, substantially boosting the resale value of your home. Third and finally, on the sunny East Coast, you get nearly year-round use out of your outdoor deck, and with no harsh winter weather to worry about, maintenance is relatively easy.
Xquisite Installations, Inc has been involved in outdoor deck additions and deck remodeling in the South Florida area for years. In that time, we have established a solid track record of quality workmanship, high-level customer service and of always meeting or exceeding all safety standards.
Our Outdoor Decking Services
At Xquisite Installations, we can do any deck job, whether new installation or remodeling, small or large, complex or simple, ground level or upper story . We work with you on the design and planning stage to give you a visual of what your deck will look like upon completion.
At Xquisite, quality and thoughtfulness is put into every stage of the project, from beginning to end. We begin by carefully measuring the decking area and ordering the necessary materials. Then all material is delivered to a location that is convenient to you and where it will be safely shielded from any rain or harsh weather.
Next, we use a layout frame and plum line to accurately position corner posts and keep everything square and level. The footing holes will be dug to a proper depth to support the structure above, and we only use high-quality concrete.
After building a solid frame that is sturdily attached to your building, we install all joists (using metal brackets as necessary) and fasten on the floor boards with aluminum (rust-proof) screws, nails, or lag screws as appropriate. Spindled railings, access stairways, step-downs, under-deck ceilings, and more can also be added.
What Decking Materials Do We Offer?
Our laborers are highly skilled in working with a diverse array of decking materials and we can accommodate you on any material you desire. We commonly work with cedar, redwood, composites and PVC-based materials.
Each material has its own distinct advantages. For example, wood adds much value and beauty to your home and can be treated and stained to resist weather and insects. Composites are less expensive, mimic the look of wood, and require little maintenance. PVC-derived materials are stain, scratch, split, mold, moisture and insect resistant and highly durable with a lifetime warranty.
We can use our deep experience in working with various decking materials to help you select the material that will best meet your needs and budget.
Other Decking-Related Services
Besides the above-mentioned services, we also frequently handle more specialized, customized requests such as the following:
Install multi-tier decking and connect third, second, and ground levels with outdoor stairways, which can be straight runs or change directions as needed.
Wrap pools with decking and ensure wood used is highly resistant to both water and chlorine. Pool fencing/gates, pool houses, gazebos, trellises, and pergolas are also often built into pool zones.
Integrate your decking with an outdoor kitchen and barbecue area and with surrounding landscaping (both hardscape and greenery).
Build a sun room or screen room with flooring made of decking material. This gives you a safe retreat from the sun, rain, and bothersome insects, while still letting in a pleasant breeze and allowing you a wonderful view.
Utilize space underneath your deck or outdoor stairway for storage purposes, attractively landscape it, or close it off with lattice work.
Contact us today for assistance!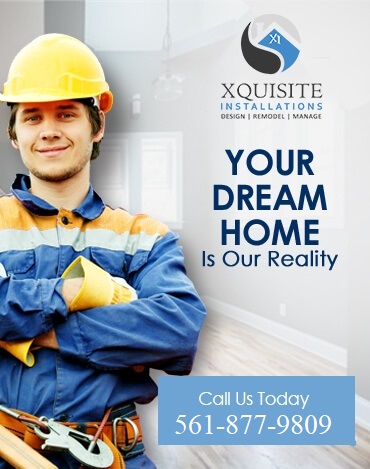 Our Commitment to Excellence
Xquisite Installations, Inc is fully equipped to handle all of your patio and deck remodeling needs in a timely and customized manner. Our dedication to superior customer service and a high work ethic have earned us the respect of our clients and of others in the remodeling industry.
Frequently Asked Questions
We were so pleased with the quality of work, communication and professionalism from Xquisite Installations. They completely turned our outdated kitchen, living room and bathrooms into updated beautiful spaces!!! Outstanding work and amazing team!
Definitely recommend!
-Krista F
I used Xquisite Installations  for the first time to renovate my kitchen. I came up with the idea of how I wanted it to look and they provided the materials. Alex was very nice and responsive to any problems that came up (and there were not many!). The workers were professional, fast and took great attention to details. The kitchen looks amazing, it got so many compliments from our guests!
-Brianna T
Discover how we can help turn your dreams into reality!
Creating a functional kitchen from the ground up isn't an easy task. Think about efficiency. Think about how you actually use the space. If people have all the room in the world—like when they're planning a kitchen in a new home—they think more is more. So they make the distance between the island and the…
If you are considering a home remodeling project, the most important decision you can make is selecting a professional home remodeler to do it. Your home is too valuable of an asset to entrust to anyone but a professional home remodeler. Perhaps your home needs a full-scale renovation to transform its outdated appearance into an…