Love where you live
From large-scale remodels to a simple quick makeover, the design team at Xquisite Installations will expertly reflect your personal taste and style.
Xquisite Installations has a full-service residential design team assisting our clients with a wide range of challenges including, selection of architectural details and finishes, collaborating with architects and builders, decorating a functional beautiful space with furniture, fabrics, accessories and creating custom pieces tailor-made for your living space.
Why hire our design team?
We believe that everyone deserves to love where they live! Our team of interior designers not only take the time to understand your vision, we have the resources and expertise to bring it to life in your own space. Whether your taste is modern, contemporary, traditional or transitional, our team has the ability to assist you effectively. Regardless of space type or budget, our team to provide a seamless design process from concept to completion.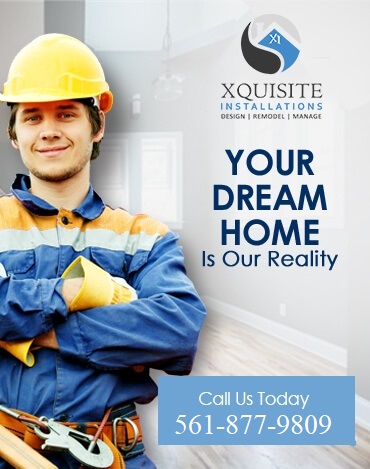 Our Commitment to Excellence
Xquisite Installations, Inc is fully equipped to handle all of your interior design needs in a timely and customized manner. Our dedication to superior customer service and a high work ethic have earned us the respect of our clients and of others in the remodeling and interior design industry.
Frequently Asked Questions
We were so pleased with the quality of work, communication and professionalism from Xquisite Installations. They completely turned our outdated kitchen, living room and bathrooms into updated beautiful spaces!!! Outstanding work and amazing team!
Definitely recommend!
-Krista F
I used Xquisite Installations  for the first time to renovate my kitchen. I came up with the idea of how I wanted it to look and they provided the materials. Alex was very nice and responsive to any problems that came up (and there were not many!). The workers were professional, fast and took great attention to details. The kitchen looks amazing, it got so many compliments from our guests!
-Brianna T
Discover how we can help turn your dreams into reality!
Creating a functional kitchen from the ground up isn't an easy task. Think about efficiency. Think about how you actually use the space. If people have all the room in the world—like when they're planning a kitchen in a new home—they think more is more. So they make the distance between the island and the…
If you are considering a home remodeling project, the most important decision you can make is selecting a professional home remodeler to do it. Your home is too valuable of an asset to entrust to anyone but a professional home remodeler. Perhaps your home needs a full-scale renovation to transform its outdated appearance into an…