A kitchen you will love to cook in!
Xquisite Installations, Inc is your premier source for kitchen remodeling in Palm Beach, Dade and Broward county. We are a versatile remodeling company that helps our clients obtain their dream kitchen at an affordable price. Whether your dream is traditional or modern, our team is here to meet and exceed your highest expectations.
Kitchens have become the centerpiece of the modern home, and a focal point of everyday life and entertaining. More than any other room, the kitchen seems to be where we spend more and more time while at home. A well-designed cooking and dining area can inspire you to spend more time preparing meals and can be the motivation for entertaining friends or family over and showing off your well-honed gourmet skills.
Thinking about remodeling your kitchen? You've come to the right place!
Planning, design and lay-out
Our design style is backed by complete follow through from the beginning to the end of every project. In other words, a Xquisite Installations, Inc Remodeling Consultant will work with you at every turn according to the process below:
Measurement: Our first step is to come to your home and take repeated measurements to make sure we're correct. As Alex says "Always measure twice!"
Layout: We will then design your kitchen layout including where each cabinet and appliance will be (how wide, how deep, how tall, etc.) You will never be limited with revision and options, because we will rework and revise the kitchen design until you are completely satisfied.
Finish Selection: We will help you match all the finishes so that your cabinets, countertops, appliances, flooring, lighting, backsplash, and accessories all match perfectly.
Budget Planning: We will help you develop a budget together and then design according to the budget range. Since we're also the supplier and contractor, our designers always know exactly how much everything costs, making it simple to stay on target.
Supply
At Xquisite, we carry every type of style from traditional to modern and every price level from very basic to completely high end. Any kitchen you can imagine we can create or even reproduce anything you've seen in any magazine, showroom, or web site. We carry the following products:
Kitchen Cabinets: 10 different lines of cabinets from many manufacturers, including large national and international brands as well as smaller local shops. We can supply any cabinet in any style, material, finish, including all the hardware.
Countertops: All granite and natural stones, quartz countertops (Including Caesarstone, Sile Stone, Zodiaq), solid surface (Corian and other brands), wood, stainless steel, glass, concrete and other specialty surfaces such as Richlite (Recycled paper product) and Ice Stone (Concrete and recycled glass).
Appliances: All brands, all models.
Tile: All types of tile including all porcelain, ceramic, glass, stone, leather, wood, and metal tile.
All kitchen sink and kitchen faucet brands and models.
Install
Xquisite Installations, Inc is currently one of the leading Palm Beach contractors. Other contractors find it difficult to compete with our level of service, quality, problem solving, project management skills, and warranties. Since we're one of the only remodeling companies with a recognized brand name and a real corporate team, we offer a completely different comfort level and satisfaction guarantee.
Hiring a contractor is always a risk, but hiring Xquisite Installations, Inc as your kitchen remodeler is a low risk option because we only strive for perfection! In other words, hiring Xquisite Installations, is like buying insurance for your project. We won't stop working until your kitchen is exactly how you like it—despite all of the typical challenges related to the kitchen remodeling process.
Maybe you have been dreaming of entertaining more, but your kitchen needs work. You would like to turn your space into a chef's dream, add more cabinet storage, or improve the room's layout. Any of these goals can be accomplished through renovation and Xquisite Installations can help!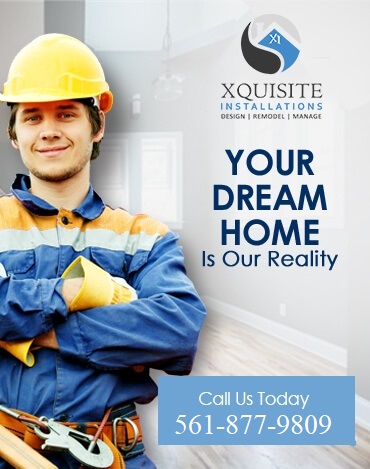 Our Commitment to Excellence
Xquisite Installations, Inc is fully equipped to handle all of your kitchen remodeling needs in a timely and customized manner. Our dedication to superior customer service and a high work ethic have earned us the respect of our clients and of others in the remodeling industry.
Frequently Asked Questions
We were so pleased with the quality of work, communication and professionalism from Xquisite Installations. They completely turned our outdated kitchen, living room and bathrooms into updated beautiful spaces!!! Outstanding work and amazing team!
Definitely recommend!
-Krista F
I used Xquisite Installations  for the first time to renovate my kitchen. I came up with the idea of how I wanted it to look and they provided the materials. Alex was very nice and responsive to any problems that came up (and there were not many!). The workers were professional, fast and took great attention to details. The kitchen looks amazing, it got so many compliments from our guests!
-Brianna T
Discover how we can help turn your dreams into reality!
Creating a functional kitchen from the ground up isn't an easy task. Think about efficiency. Think about how you actually use the space. If people have all the room in the world—like when they're planning a kitchen in a new home—they think more is more. So they make the distance between the island and the…
If you are considering a home remodeling project, the most important decision you can make is selecting a professional home remodeler to do it. Your home is too valuable of an asset to entrust to anyone but a professional home remodeler. Perhaps your home needs a full-scale renovation to transform its outdated appearance into an…